Whether you want to enjoy free shipping or want to shop from Daraz Bangladesh without any delivery fee, collection points can be a great help for you. You can easily collect your ordered products from the Daraz collection point without any kind of delivery charge. Let's see how Daraz can help you to obtain the best shopping experience in the country.
What is Daraz collection point?
Daraz collection points are some spots from where you can collect your ordered items without any delivery charge. You can choose your nearby collection point to avail free shipping and collect your parcel at your convenience.
How To Select Daraz Collection Point
While ordering products on Daraz, you'll be offered to choose the preferred Daraz collection point from which place you want to collect the exact delivered products in a very much suitable time. For selecting Daraz collection point,
Proceed with your order and you will get the Collection Point option at the check out page
Only then you can select the Collection point (Pick-up Point) option of your choice
Now press Proceed to Pay and complete your order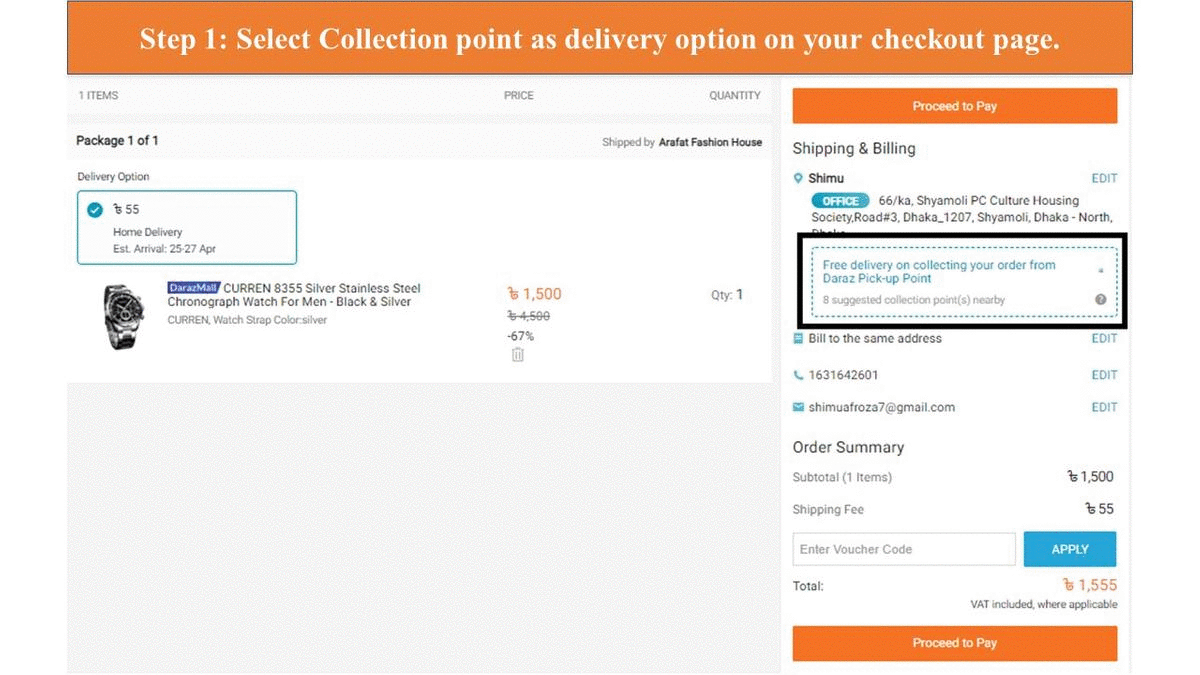 How Can You collect Parcel from Collection Point?
Okay, you ordered your desired products with the preferred collection point. Now what? How can you know when the product arrived. Let's focus-
Once your parcel will reach Collection Point then you will get the OTP (one-time-password) via SMS, Email, and Push Notification.
Collect your parcel from your selected collection point by showing that OTP.
With the help of Daraz collection point, you can grab your ordered parcel without spending money on the delivery charge. Moreover, you can get your delivery quicker with a more direct approach. You can unveil more information about the collection point in the Daraz help center page. Happy shopping!