Last updated on January 19th, 2022 at 03:43 pm
Immerse into the future of online shopping as Daraz introduces Daraz Live, Bangladesh's first-ever In-App live stream shopping that combines entertainment with instant purchasing!
Daraz Live is an innovative method to enhance the shopping experience for Daraz shoppers as it connects users with hosts and retailers. It is a blend of entertainment, product discovery, instant purchasing, and live offers from top brands in Bangladesh. Daraz Live is also a great opportunity for those who are seeking to make the most of digital platforms as it promotes an innovative method of purchasing the exact products you want after looking at them live through the video stream.
Not only this, but you can also stay updated with the latest shopping trends, weekly top-picks by Daraz, catch shows & updates and enjoy live fashion tips with what's new in fashion and beauty products. Plus, there's much more!
What is Daraz Live?
Unlike the Live videos by Daraz that streams on Facebook, Daraz Live is an exclusive Daraz App feature that allows viewers to watch and shop at the same time.
Daraz Live features non-stop shoppertainment for users and has Live shows produced in-house by Daraz Studious to make live shopping easy and fun for all.
In order to make the most of the interactive, "see now, buy now" user experience, Daraz Live has exciting features that make in-stream shopping in Bangladesh better than ever.
With Daraz Live you can get:
Live updates about new products and promotions
Allowing shoppers to interact with hosts, sellers, and celebrities live.
Save more with Daraz Live vouchers by stores that are redeemable through the Daraz Live Videos
Get numerous chances to win exciting gifts and rewards with daily give-aways every day on Daraz Live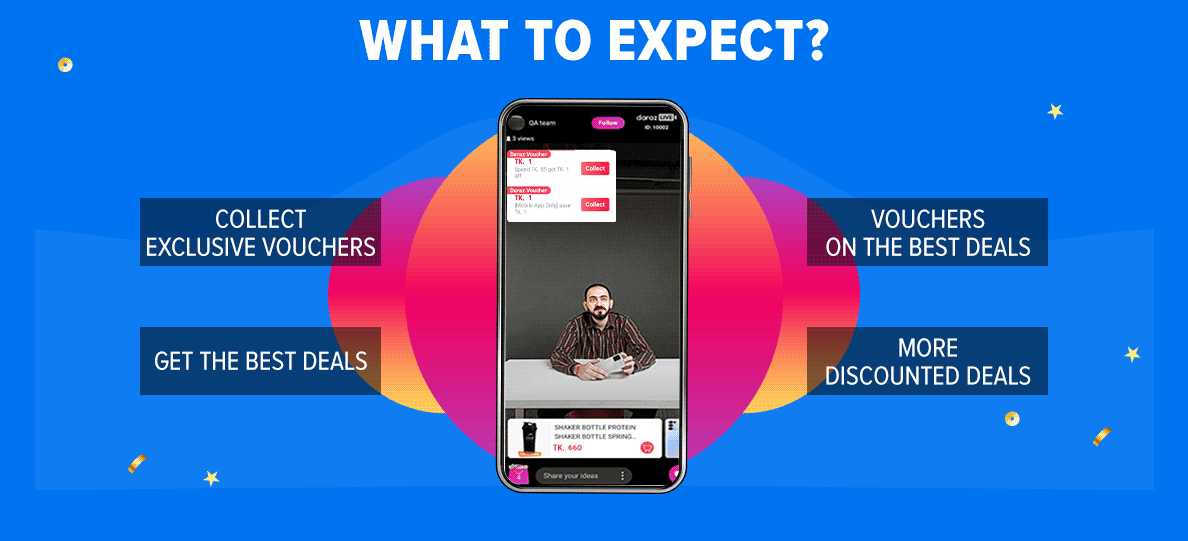 How to Watch Daraz Live Video?
Want to be a part of this future of e-commerce shopping but not sure how to? Worry not, to watch Daraz Live videos, all you need is the Daraz App with which you can be redirected to the Daraz Live Streaming channel and access all the live videos, stay up-to-date with the upcoming videos, and also replay previous live videos as well!
Here's how to watch Daraz Live Videos:
Open the Daraz App,
Click on the "Daraz Live" icon,
After clicking the icon, you'll be redirected to the Daraz Live page where you can watch all videos and catch all the upcoming videos as well.
Tune in to the Daraz App and catch all the Live videos every Saturday to Friday or head over to our Daraz Blog to learn more about Daraz live streaming app features!
So, what are you waiting for? Download the Daraz App now and immerse into the world of shoppertainment with Daraz Live!
dLive Show Timeline
Saturday
Sunday
Monday
Tuesday
Wednesday
Thursday
Friday

2:00 pm

The Home Maker Show
The Home Maker

6:00 pm

Fashion Show
Man in Style
Woman in Style
Man in Style
Woman in Style
Man in Style
Woman in Style
Wearables

8:00 pm

Tech Review Show
Tech Bites

9:00 pm

Beauty Show
Shine with Daraz

10:00 pm

Entertainment Show
Dex Hero's Tale
Career Talk
Game Show
The Unseen Daraz
Game Show
Comedy Show
Comedy Show
Cricket Lover? Watch live cricket streaming free on Daraz App Now.
Found this insightful? Choose your network to share: