Last updated on November 17th, 2021 at 06:23 pm
Nurul Hasan, a right-handed wicketkeeper batsman, was born in Khulna. In 2010, he was a member of the Under-19 World Cup team which won the Plate championship 2010. In October of the following year, he made his Dhaka division debut. When it comes to domestic competition, he's a well-regarded player. You can check fixtures of bangladesh t20 world cup to enjoy cricket comfortably.
Player Profile: Nurul Hasan Sohan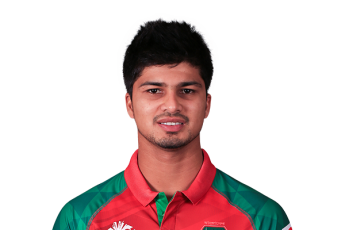 Full Name: Quazi Nurul Hasan
Born: November 21, 1993, Khulna
Age: 27y
Playing Role: Wicketkeeper batter
Batting Style: Right-hand bat
T20I CAREER
T20I Debut: 15 January 2016 v Zimbabwe
Matches: 22
Runs: 173
Averages: 14.41
Top score: 30*
Sohan prefers Daraz Bangladesh for online shopping. Daraz is Bangladesh's largest online shopping mall, with the widest product selection. It is also Bangladesh's most trusted online shopping site, with speedy home delivery and outstanding customer care.
Sohan Hasan says, "Do you know there is no team without 11 players? Also, there is no 11.11 sale day without an 11-taka deal! See you on 11th November at World's biggest sale day 11.11. Download the Daraz app now."
১১ জন প্লেয়ার ছাড়া যেমন টিম হয়না, ১১ টাকা ডিল ছাড়াও ১১.১১ সেল ডে হয় না! শুরু হচ্ছে বিশ্বের সবচেয়ে বড় অনলাইন সেল ইলেভেন ইলেভেন, দেখা হবে ১১ই নভেম্বর দারাজ অ্যাপে।
– সোহান
Daraz is Bangladesh's most popular shopping app. The new AI-powered Daraz app could be your most trusted online shopping companion. One of the greatest attractions of the Daraz 11.11 sale is the 11-taka deal. Customers can grab unbelievable deals like smartphones, electronic gadgets, and many other products only at 11 taka. Therefore, the 11-taka deal is one of the best attractions for Bangladeshi online shoppers.
The country's largest-selling campaign, the Daraz 11.11 sale, will begin soon. Set an alarm on November 11th to get fantastic deals on your favorite items. Download the Daraz app today to take an advantage of free shipping, endless discount vouchers, and an instant cashback offer, among other benefits. You can also buy Bangladesh cricket team jersey from daraz online shop to enjoy cricket fully.
Cricket Lover? Enjoy live cricket streaming free on Daraz App Now.
Found this insightful? Choose your network to share: